| | |
| --- | --- |
| Posted on November 16, 2012 at 7:45 AM | |
Mmm...yesterday I made 6k of Patchouli and Orange soap and oh boy, it came out good! It is a slightly more complicated soap to make as I need to mix an orange version (with natural colouring from seeds) and a plain white version and then bring them to trace (the point at which the mix is beginning to saponify, when everything has to happen fast) at exactly at the same time and swirl them together to get the wonderful flame pattern through the soap. I think it's worth the effort though as the soap looks and smells amazing.
Patchouli is a wonderful oil - rejuvenating, and good for balancing sebum production (and so great for  dry, oily or combination skin or acne). It is also reputed to have lots of wonderful healing, anti-depressant and even aphrodisiac properties. The plant is native to Malaysia and India. The name comes from Hindustan 'patch' (green) and 'ilai' (leaf).
Apparently Patchouli was used to keep moths from Indian cashmere shawls en route to Victorian England. It is better known for having gained popularity in the 60s and 70s with the hippy trail to India. In my soap I add uplifting Sweet Orange to brighten and lighten the scent just a little. The combination is divine and I love seeing Patchouli fans going into ecstasies over it when they get to my stall. They often say it 'takes them back' and seeing their faces I can almost see where to. What can I say, it seems like a lot of customers had a fantastic time in the 60s and 70s, if their reactions are anything to go by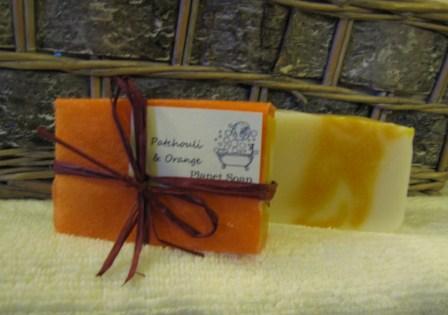 !